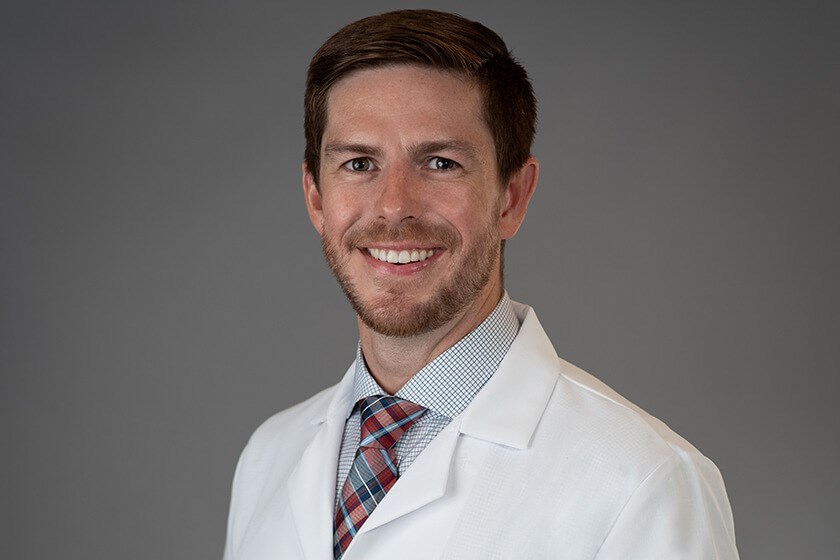 Dr. Jay Robertson is a board-certified general surgeon providing advanced care to patients throughout the Greater Sacramento area. He has extensive experience in healthcare, which enables him to take a multi-factorial, comprehensive approach to treat patients diagnosed with benign and malignant health conditions. Dr. Robertson strongly believes that each patient is an individual and that nonsurgical or surgical treatments should be tailored to each patient and their specific health needs. When it comes to complex diseases, he believes a multidisciplinary approach allows for the best patient outcomes.
Education and Certifications
For his undergraduate studies, Dr. Robertson attended Brigham Young University College of Life Sciences in Provo, UT where he earned a Bachelor of Science in exercise science. He then went on to earn a doctor of osteopathic medicine (D.O.) degree at Midwestern University College of Osteopathic Medicine in Glendale, AZ. After completing his formal medical training and studies, Dr. Robertson attended a general surgery residency at McLaren Macomb Hospital in Mount Clemens, MI where he also served as chief resident.
Dr. Robertson holds the following certifications:
American Board of Osteopathic Surgery
Advanced Cardiovascular Life Support
Advanced Trauma Life Support
Fundamentals of Laparoscopic Surgery
Fundamentals of Endoscopic Surgery
Fundamental Critical Care Support
Specialties and Expertise
Dr. Robertson is dedicated to providing the highest standard of care to his patients. He has trained in some of the most advanced surgical techniques currently in use, including robotics, breast surgery, colorectal surgery, thyroid surgery, and endoscopy, in addition to other general surgical procedures. Dr. Robertson has a particular interest in hernias with an emphasis on the surgical repair of complex hernias requiring abdominal wall reconstruction. He remains active in several professional organizations, including the American College of Osteopathic Surgeons, the American Medical Association, and the American Osteopathic Association.
Always passionate about improving the lives and well-being of others, Dr. Robertson has served as a volunteer in various capacities, including as a Sunday School instructor at The Church of Jesus Christ of Latter-day Saints. He has also dedicated his time to delivering healthcare education for caregivers of disabled children through Healing Hands for Haiti and providing healthcare to the homeless through HOME Clinics in Phoenix, AZ. In support of the Boy Scouts of America Medical Explorers, Dr. Robertson led 28 high school students in the Dominican Republic, provided physicals for underprivileged students through Team of Physicians for Students (TOPS), and served at Camp Hobe, a weeklong camp for childhood cancer patients.
Privileges
Reviews
"l.meador - dr. skeehan is very patient and understanding.."
Anonymous
Vitals
"I cannot say enough about this caring, talented surgeon. His demeanor immediately puts you at ease and in my case it was emergency surgery and I never once felt uneasy that I had not done my "homework" on selecting a surgeon. I highly recommend Dr. Skeehan."
J.S.
Healthgrades
"SIERRA PACIFIC SURGICAL DR. DAVID M. SKEEHAN, DO SURGICAL REVIEW In today's world, one often is not treated with care and commitment when receiving medical attention. Fortunately, I am not one of those individuals. In fact, I was so pleasantly satisfied with my recent surgical procedure (3 hernias) that I want to share this extraordinary experience with others and to refer and reward the surgeon and staff for their commitment, experience and expertise. Back in late June, I was referred to Dr. "
S.L.
Healthgrades
Related Posts